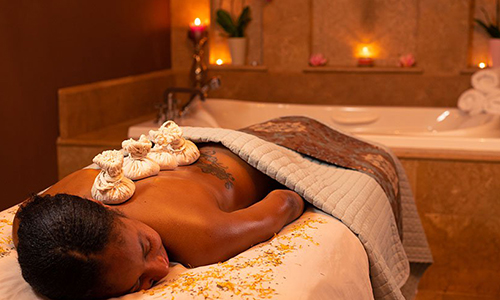 There are endless ways to relax in Myrtle Beach, whether lounging poolside, kicking back in an Adirondack chair with a glass of wine, or letting the sea breeze rock you to sleep. One of the best ways to truly unwind, however, is at one of the area's top-notch spas.
Indulge in an afternoon of luxury and pampering and emerge a refreshed person altogether, ready to face whatever comes your way! After all, isn't that what a vacation is all about? From resort-style spas to individually owned operations, choose from an array of spas and find the perfect fit for you:
Cinzia Spa
Cinzia Spa, located at North Beach Plantation, offers the epitome of luxurious restoration. In this 17,000 square-foot sanctuary, your mind and body will happily welcome a fulfilling, nurturing experience. Choose from a range of packages like the "Wellness Warrior," the "Self-Care Express" and the "Signature Experience." And, all packages include access to the Spa Garden Sanctuary and the Indoor/Outdoor Meditation Lounge. The spa also offers numerous individual services, including facials, massages, manicures and pedicures, advanced skincare systems, and rituals.
Celestial Spa on Cloud 9
For more than 13 years, Celestial Spa on Cloud 9 has delivered five-star service and exceptional experiences to its many clients. The boutique spa, located on 21st Avenue North, offers a comprehensive list of services like massage therapy, facials, and body treatments, as well as cosmetic services like spray tanning, waxing and lash extensions. Kick back, relax and let your true self be restored – the company's hope is that all who enter as clients will leave as a friend!
Majestic Massage
If you're in the mood for a little bit of luxury at a great price point, head to Majestic Massage. Located in the heart of Myrtle Beach on N. Oak Street, this spa is the perfect place to reconnect with your partner over a couples massage. Gently exfoliate your skin and feel better than ever in your swimsuit with the spa's micro buff body polish. From facials to mud wraps, you're sure to find something that's exactly your speed at Majestic Massage.
Hibiscus Spa
At the Myrtle Beach Marriott Resort and Spa at Grande Dunes, Hibiscus Spa provides spa services like facials, hand and foot treatments, massages, teen spa treatments and special packages. Set at one of the most scenic resorts along the Grand Strand, going to this spa feels like a vacation in itself. After your tranquil day at the spa, be sure to stop by their spa shop, where you can purchase organic essential oils and plant extracts to take home with you.
Kiva Day Spa
Kiva Day Spa is a (somewhat) hidden gem in Myrtle Beach, located at Kings Road in Kingston Plantation. With rave reviews and a loyal following, you'll have to experience Kiva Day Spa for yourself and see what all the rage is about! With an educated, professional staff at the helm, your massage, facial, body treatment or other service is sure to be pure bliss.
No matter which service provider you choose, you're sure to be in skilled hands. Take time on your next visit to Myrtle Beach to pamper yourself — because you are a worthy investment! It's important to carve out a little "you" time, and your tense muscles will thank you for it.